This last weekend was Doraemons 40th Anniversary celebration. I'm not gonna lie, it was a pretty big deal in Singapore...and to me! My brothers and I grew up watching Doraemon in Japan so there was no way I was going to miss the celebration.
In case you are not familiar with the magic of Doraemon here is a little plot summary:
Doraemon is a blue robotic cat from the 22nd century who gets sent back in time by the clumsy and very unlucky forth-grader Nobita Nobi's great-great-grandson Sewashi to help improve Nobita's circumstances so that his descendants, including Sewashi, may enjoy a better future. In the original timeline, Nobita's failures in school and subsequently, his career, have left his family line with endless financial problems.
Doraemon has a pocket from which he produces many gadgets, medicines, and tools from the future. The pocket is called yojigen-pocket, or fourth-dimensional pocket. In a typical chapter, Nobita comes home crying about a problem he faces in school and/or the local neighborhood. After hearing him out, Doraemon always offers helpful advice to his problem(s), but that's never enough for Nobita, who is consistently looking for the "quick, easy" way out (which offers insight to the viewers as to why Nobita's life turned out the way it did). Finally, after Nobita's pleading and/or goading, Doraemon produces a futuristic gadget out of his aforementioned pouch to help Nobita fix his problem, enact revenge, or flaunt to his friends.
Nobita usually goes too far, despite Doraemon's best intentions, and gets into deeper trouble than before. Sometimes, Nobita's friends (usually Suneo or Gian) even steal the gadgets and end up misusing them. However, by the end of the story, there is usually retribution to the characters who end up misusing the gadgets and a moral, sometimes cautionary lesson is taught.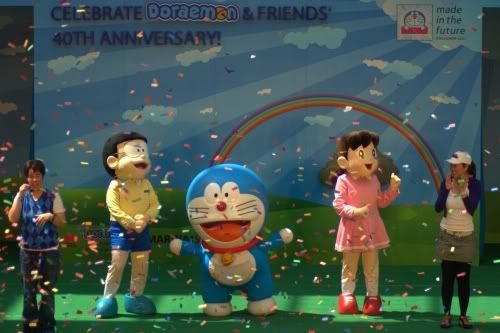 ---